I was born and raised in New Mexico and brought up as a Roman Catholic, though not a very faithful one. When I was five, my father died in an accident which left my mother to raise me and my two sisters. After my father's death we began to attend Catholic mass more regularly, but by the age of 7 we were back to only attending for special occasions. As a child I saw the emptiness of the Catholic religion.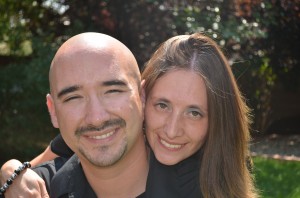 I married my high-school sweetheart shortly after graduation. When our first child was born my wife (my girlfriend at the time) decided that she wanted our daughter to grow up in church. We began attending church and we both received Jesus Christ as our Saviour!
We had both been saved but were not growing spiritually so we stopped attending church. Over a year later, through the efforts of a soulwinner, we began attending New Heights Baptist Church! It was a brand new church meeting in an elementary school. Almost as soon as we started attending I was baptized and began discipleship with my pastor. Through this spiritual growth, the Lord began to work in my heart and He called me to preach! While at New Heights Baptist Church, we have both had the opportunity to serve in a number of ministries including: Adult Bible Studies, Teen Sunday School, Jr. Church, work in the Bus Ministry, and I served as a Deacon for five years. The Lord was preparing us to start Liberty Baptist Church!
During this same time, wanting to make the correct decision for my family of six, I prayed for three years about going to Bible college and in 2007 the Lord opened a door for me to attend a local church Bible institute. In 2011 I graduated from Gospel Light Baptist Bible Institute ready and willing to serve the Lord but not knowing His specific will for me. After counseling with my pastor, and spending much time in prayer and fasting I felt God's clear leading to start Liberty Baptist Church! Listen to our story of God's leading to start Liberty Baptist.
In March of 2013 Liberty Baptist Church was started! It has been exciting to see the Lord work in this young church already and we are all excited about what the future holds for us here at Liberty Baptist. We are passionate about reaching the lost with the gospel of Jesus Christ and because of that, we are an aggressive soul conscious, soulwinning church. We're also passionate about the word of God and how it has the power to transform us into the image of God. We offer several services each with the purpose of helping in a practical way in our daily lives while also equipping God's people to do the work of the ministry. If you feel like we may be the church for you, we'd love to have you visit and we welcome any questions you may have. You may find our service information here. Have a great day.